June 13th, 2003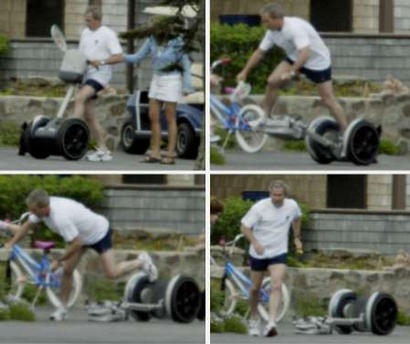 (photo courtesy REUTERS/Jim Bourg)
When the Segway was introduced onto the market a little over a year ago, amid much fanfare, it was touted as an innovative new form of transport that could transfigure the urban landscape. What is apparently so remarkable about the Segway is its ease of use and equitability; both young and old, able-bodied and handicapped, should be able to master its use. The apparent sole exception, as these pictures attest, is The Most Powerful Man On The Planet…
The lesson here is obvious: DON'T DRIVE WHEN DRUNK WITH POWER!!!
(Yes, Bush fall down go boom, I make fun of him. So what? He's killed more people in this century than all other Republicans combined, and he's just getting started! Why wait until November 2004 to see him fall on his ass?!?)
---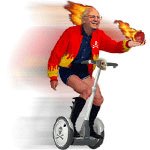 This little incident also provides the perfect segue to a fine cause worth promoting:
The Modern Humorist
's
"Wicked Projects Fund"
wants to
"Help the Vice-President come out as a costumed supervillain! All he needs is a set of awesome villain wheels. Your donations will be used to buy an actual Segway scooter–the most villainous ride ever invented–and we will actually paint it scary colors and actually try to give it to Dick Cheney. Plus, we promise we won't waste your money in a sleazy supervillain bar. Mwoo-ha-ha-ha!"

As of today's date, they've collected a little over $300! Since a Segway costs only $4,950.00, that means they are already almost 1/16th of the way there! If you want to help out, click on the banner.