August 6th, 2003
BREAKING NEWS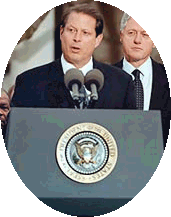 Al Gore, the elected President of the United States, will give what is being billed as a major speech on the Bush policy in Iraq to a liberal activist group in New York. According to a August 5 New York Post story, Gore approached leaders at MoveOn.org and asked them to sponsor the speech at NYU.
You may recall that last year, shortly after the first anniversary of the September 11 attacks, Gore spoke out in San Francisco while the White House was gearing up the country for war, criticizing the Bush misadminstration for it's pre-emptive policies and shortsightedness. Gore seems to be enjoying the role of retired esteemed statesman, even as supporters such as Mario Cuomo are encouraging him to re-enter the political arena.
I am curious to see what if any mainstream media coverage this speech will get, and I don't mean the Faux News dissection that will take place immediately afterward.
DETAILS:

Vice President Al Gore Iraq Policy Address
11am, Thursday, August 7
Eisner and Lubin Auditorium
Kimmel Center for University Life, 4th Floor
60 Washington Square South
New York

LINKS:

Democrats.com (the unofficial, and much funnier, site of the Democratic party)
DraftGore.com (encourage Gore to take his rightful residence)
MoveOn.org (anti-war, anti-Bush, pro-thought group)